DS-PSA Nitrogen Generators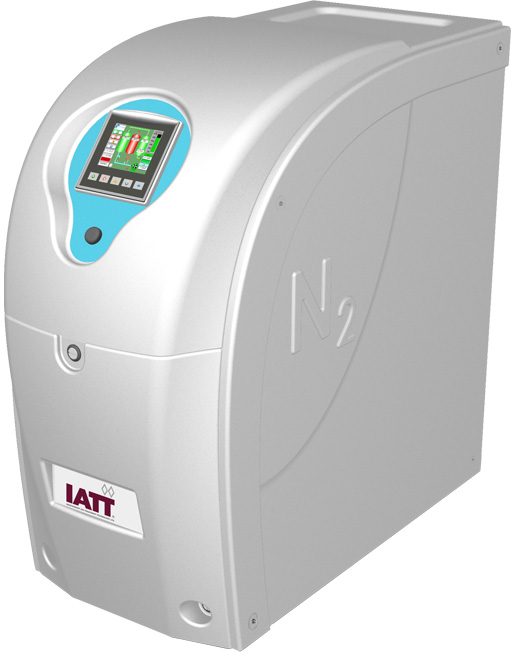 Applications: LC/MS - For Installations Far Away From the Lab Without any Pressure Drop
AiroGen® DS-PSA Nitrogen Generators from IATT use Pressure Swing Adsorption (PSA) technology combined with two step pressure management to produce pure nitrogen gas with high flow, pressure and purity.
This high N2 pressure allows installation of the N2 generator far away from the laboratory without any pressure drop at the point of use.
The N2 generator includes as standard a pressure switch which can be adjusted on the display. By linking the N2 system to an external gas receiving tank, service maintenance costs are greatly reduced due to the system components being under less stress.
Benefits
Improve analytical instruments performance - Production of a constant flow of gas improves the consistency of the analysis results and hence reproducibility.
Improved laboratory efficiency - The relatively high gas volumes required by LCMS make cylinder supply inappropriate for such applications.
A constant, uninterrupted gas supply eliminates interruptions of analyses to change cylinders.
Improved economy - Quick return on investment < 1 year.
No gas cylinder rental and no gas price increases.
Improves safety - Nitrogen produced at low pressure and ambient temperature removes the hazards associated with high pressure cylinders and liquid dewar's.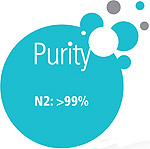 Features
Fully regenerative PSA technology: reduced risk of gas contamination and phthalate free.
High pressure nitrogen > 8 bar.
Integral oil free compressor offers a fully secure N2 supply.
Quiet operation using a soundproofed compressor enclosure and anti-vibration features.
Compressor over temperature alarm.
Auto start.
Audible and Alarm display with help menu.
Visual maintenance indication.
Energy saving Mode: Enables the compressor to switch off when nitrogen supply is not required with the external N2 tank.
Can be fitted with wheels for mobility.
{ IATT provide a complete system from compressor and air treatment to laboratory application