Membrane Nitrogen Generators
Applications: LCMS / Solvent Evaporation / ELSD Detectors / Corona Detectors
IATT offer a range of Membrane Nitrogen Generators that use membrane filtration technology as the core of the process based on the selective permeation principle.
Membrane Nitrogen Generators uses filtration to separate nitrogen from atmospheric air that is passed through an air compressor into the generator. The dry compressed air stream is passed through bundles of semi-permeable hollow fibre filtration membranes that are configured into a cartridge style. Under pressure oxygen, water vapour and other trace gases, which are fast gases, readily permeate through the micro porous structure of the hollow fibre filtration membranes. The nitrogen molecules which present a speed of slower distribution stay within the membrane and pass along the hollow fibres to the outlet to be further filtered and used in the application.
The low pressure drop of Membrane Nitrogen Generators allows the unit to be connected to an existing clean, dry and oil-fee compressed air supply in the laboratory. Combined nitrogen/dry air is available to meet the requirements in terms of flow, purity and pressure for ABI LC-MS applications.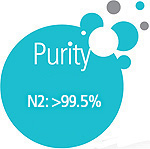 Features
Constant high purity Nitrogen.
Saves space in the laboratory.
Minimal maintenance.
Touch screen control option.
No need to handle gas cylinders.
{ IATT provide Rapid Responsive Maintenance programmes to ensure laboratory downtime is minimised