PSA LC/MS Nitrogen Generators
Applications: LC/MS
The AiroGen® PSA LC/MS Nitrogen Generators use Pressure Swing Adsorption (PSA) technology to produce pure nitrogen gas. This technique uses a Carbon Molecular Sieve (CMS) to selectively remove oxygen and other contaminants from atmospheric air. The CMS bed alternates between purification and regeneration modes to ensure continuous nitrogen production.
LC-MS analysers do not all share the same requirements in terms of type, flow rate, pressure and purity of the gases needed for their operation; That's why the PSA LC/MS Nitrogen Generator range from IATT was developed to meet the needs of all LC/MS analyses on the market.
IATT offer 5 types of PSA LC/MS Nitrogen Generators with options for with or without built-in-air compressor.
Type 1: With max. output of 35 L/min of N2 gas.
Type 2: With max. output of 64 L/min of N2 gas.
Type 3: The dual flow, specifically designed for nebulization and collision gas requirements. The generator provides two continuous streams of nitrogen from a single 'plug & play' unit.
Types 3-4: With max. output of 15 or 25 L/min of N2 gas.
Type 5: The triple flow, specifically designed to supply Curtain, Source & Exhaust Gases with dry air and nitrogen for ABI SCIEX LCMS instruments.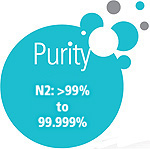 Features
Fully regenerative PSA technology - reduced risk of gas contamination and is phthalate free.
Flow rates suited to LC-MS analyser requirements.
Outlet pressures up to 7 barg.
HMI touch screen technology to display the process in real time for inlet/outlet pressures.
Integral oil free compressor option on most types offers a fully secure N2 supply.
Quiet operation using a soundproofed compressor enclosure and anti-vibration features.
Auto start.
Audible and alarm display with help menu.
Visual maintenance indication.
Outlet flow indicator.
Trend graph for QA reporting.
Energy saving mode: Enables the compressor to switch off when nitrogen supply is not required.
Remote access to screen using Internet or GSM (Global Systems for Mobile communication).
Can be fitted with wheels for mobility.
{ High purity onsite generation of laboratory gases with improved efficiency, economy and safety